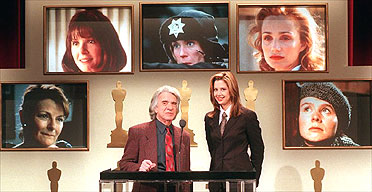 1. Emily Watson as Bess McNeill in Breaking The Waves: Sage has covered plenty of Oscar mistakes in her rankings, but I haven't covered that many. Well, here's my first one! Emily Watson's performance is easily one of the best I've ever seen.It is so real. She completely stripped her real self away and was committed to her character 100%. It's a shattering portrayal of an emotionally desperate woman that is unforgettable. Grade: 5 stars.
2. Frances Mcdormand as Marge Olmstead-Gunderson in Fargo: Frances Mcdormand is hysterically funny and just wonderful in Fargo, which is a great movie. She adds a lot of depth to the film and to her character. A worthy winner. Grade: 4, 5 stars.
3. Brenda Blethyn as Cynthia Rose Purley in Secrets And Lies: Blethyn is fantastic in this film which is also great. It's a heartbreaking and very realistic performance. Grade: 4,5 stars.
4. Diane Keaton as Bessie in Marvin's Room: I usually love Diane Keaton, but this performance was a mixed bag. She was good and enjoyable, but, like Fritz said in his review of her, is there any depth? But it's not bad. But Meryl Streep was the standout for me. Grade: 2 stars
5. Kristin Scott-Thomas as Katherine Clifton in The English Patient: I didn't hate this, but was there anything truly exceptional about it? I couldn't see anyone playing this role, but it just wasn't very impressive to me. And I personally feel that Juliette Binoche had a larger role (And not to mention the better performance in my opinion), so why couldn't she have been in supporting? Grade: 2 stars
What are your thoughts on this year? Who was your pick to win?
.